To find help find your question select a category:
||Letters||Delivery||Payment||Privacy||Complaints||
Letters
Q I've made a mistake personalising my letter!!  What can I do?
A If you've only just ordered, contact us and tell us. It's generally faster to email than to phone us because we keep our inbox open as we work and during the run up to Christmas, there is often a member of our team online.
We'll try to correct the error if you let us know straight away but sadly, if your letter has already been completed and dispatched, there's nothing we can do.
Q Can I have more than one child's name on one letter?
A Yes. We will write up to TWO children's names on the same letter. There isn't really room for more than that without making your letter and its envelope look crowded. If you add more names than we can fit on one letter, we may have to cancel your order. (We will email you and let you know if this happens.)

Q What is the difference between a Christmas Morning Letter from Santa and a Before Christmas Letter from Santa?
A Before Christmas letters are written from Santa's home, Christmas House, up in the North Pole. They tell magical little stories about what has been happening to him in the run up to Christmas this year. They should be read by children before Christmas.
Christmas Morning letters are written from Santa's sleigh and tell of the exciting adventures he has had on his way around the world on Christmas Eve. They should be read by children on Christmas Morning.
Q When my letter arrives, can I open it before I give it to my child without spoiling it?
A Yes. We recognise that most grown-ups like to view letters before passing them on to children, so we leave the envelope unsealed. Don't forget to stick the flap down once you've had a peek!
Q Can you change Santa's address at the top of the letter from the North Pole to Lapland?
A No. Sorry, but the words "The North Pole" are not an editable part of our letters. We realise that due to companies selling holidays in Lapland, many families have now switched to the idea that that is Father Christmas's home. However, many have not and we had to make a choice. We chose the North Pole because it is more old-fashioned and also because of its popularity in the US as well as the UK.

If your child believes Father Christmas lives in Lapland, you could always tell him/her that he has a home at the North Pole too. (Perhaps a winter and summer residence?!) We hope that helps.
Q Where are the free printable Father Christmas letters?
A Here: rooftoppost.co.uk/free/father-christmas/father-christmas-letters/
Delivery
Q How long will my letter take to arrive?
A We try our best to get letters personalised, printed and posted as fast as we can, usually within three working days. However, in December it may take us four or five days, as we get extremely busy.
While all orders are sent in time to arrive before Christmas, it's a good idea to order early if you can – your letter will arrive hidden in plain packaging so you can pop it out of the sight of little eyes until the time is right.
If you think your order has got lost in the post, please contact us.
Q Do I have to pay for postage within the UK?
A No. Ordinary first class postage within the UK is free.   Royal Mail Signed For® 1st Class is available at an extra cost, calculated using the size and weight of your order.  
Q Do I have to pay for postage to Europe, the US, Australia or anywhere else outside the UK?
A Yes. Orders being despatched to addresses outside the UK will mean paying extra for delivery. The amount you will need to pay will be calculated in your shopping cart, once you have given the delivery address.
Q What shall I do if I miss the last posting date?
A We're afraid there's not much we can do to help you there. We shut the order forms down on a specific date so that we can make sure all the letters ordered arrive before Christmas. However, if you've got a pair of scissors and a printer, we do have some beautiful free printable letters by the same writer/illustrator. They're not personalised with a name but their chatty, informal tone feels personal. Using one of these should mean that your child won't feel forgotten by Father Christmas this year!
If you do decide to print one of our free father Christmas letters, there's also a useful video to help you make the most of them!

Q How can I be sure my child won't see the letter arrive in the post?
A All our letters and their special Christmas envelopes are sent hidden in a plain envelope with the adult's address on it. The idea is that you then hide the letter away until you want to leave it somewhere for your child to find. Father Christmas recommends beside a chimney or under the Christmas tree.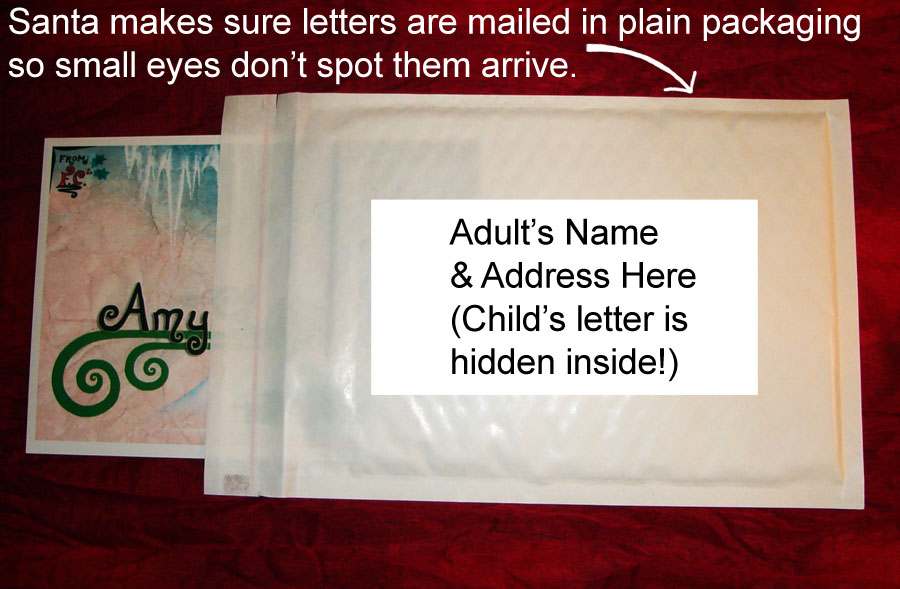 Q When are your last ordering dates for Christmas 2018?
A Last orders for Christmas will be taken via our online shop on 10th December for UK addresses, 5th December for Europe and the USA, and 1st December for addresses elsewhere in the world. You can read more here.
Payment
Q

How do I pay?
A All payments are taken online via PayPal.


Q Can I pay over the phone?
A Sorry, no. For security reasons we only take payments online, via PayPal's secure server.
Q Can I pay by cheque?
A No. Sorry but we are not able to accept cheques (or postal orders).

Q What currencies can I pay in online?
A We take all our payments in GBP (£ sterling), but PayPal's secure payment system will let you pay on most credit or debit cards, many of which can be used internationally.
Q What if my card is refused?
A Cards are not refused by Rooftop Post – they are refused by PayPal or your credit/debit card issuer (i.e. your credit card company or bank). There are lots of reasons why this might happen and we suggest you contact your bank or credit card company directly or, if you think it's PayPal, read these common reasons for a credit/debit card being rejected. You can also call PayPal if you have further questions.
Privacy
Q Do you share my details with anyone?
A No. We don't. As a matter of interest, we get fed up with the aggressive marketing strategies we see other businesses using online and we definitely wouldn't support it by passing customer details to second or third parties. 
You can find more detailed information about privacy, for example what information we collect and store, on our Terms and Conditions page.

Complaints
Q You've made a mistake on my letter!  What now?
A We're very sorry to hear we've made a mistake, it's extremely rare.  Please let us know as soon as possible and we will either issue you with a replacement or a full refund.  
Q I've received someone else's order!  What now? 
A In all the years we've been online, this has only happened to us once, so if it has happened again, we can't apologise enough!  Please let us know so that we can either send you the correct order or issue you with a full refund.  
Q I'm dissatisfied with the product.  What now? 
A If you're unhappy with any of our products, we're unhappy too – and of course we'll issue you with a full refund.  Please contact us and let us know that you're dissatisfied as soon as you can.  We're a family business and we care very much about customer satisfaction, so we're always ready to give you back your money and listen to your concerns.

Please note: The frequently asked questions above are about the personalised letters we sell in our shop. For FAQs about our free printables, click here.
If you have a new FAQ you want us to answer, feel free to get in touch.
Save
Save