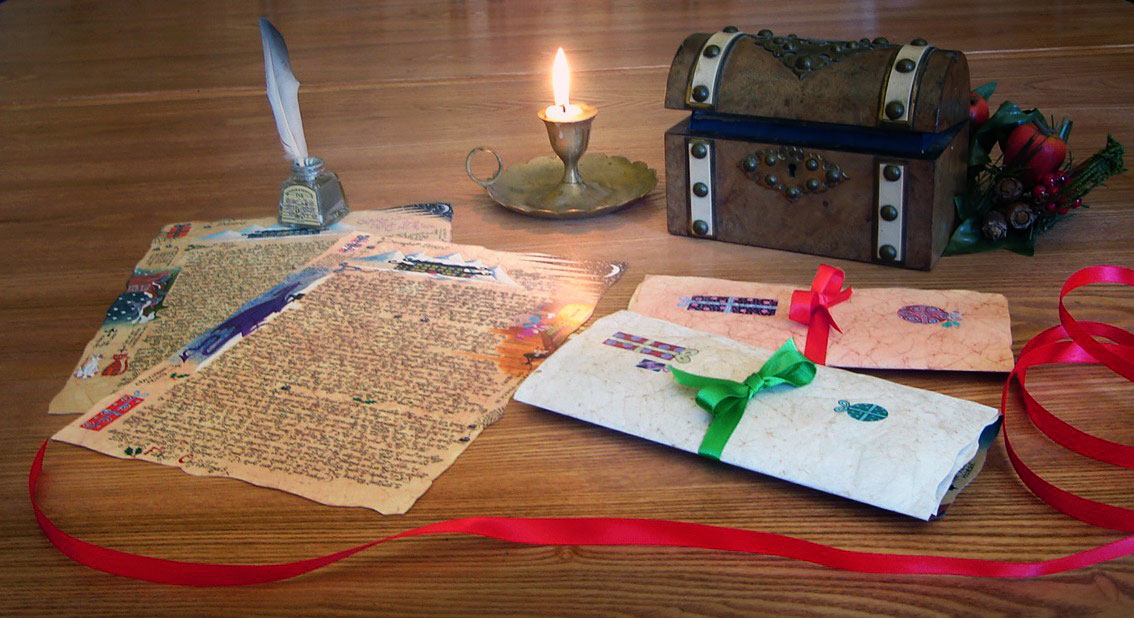 At Rooftop Post, our letters tell stories. Father Christmas writes about his magical life in the North Pole just as though he were telling his news to a friend.
Personalised
Peppered with beautiful illustrations and personalised with your child's name, our letters are intended to make your little one feel extra special from start to finish.  For that extra touch of magic, you can even add your own P. S. from Father Christmas, which we will place at the bottom of the letter in our beautiful curly font.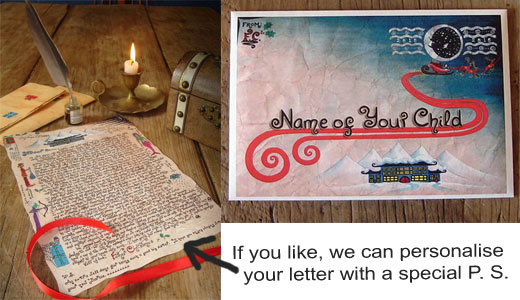 Different Lengths
Our Father Christmas story-letters come in three different lengths. One page, two pages, and for those whose children love a really long yarn, three pages. Parents tell us their children enjoy having them read over and over again – and we hope yours will too.
Open and Read When You're Ready
Each letter comes tied with a ribbon and placed in its own special envelope. The whole thing is then hidden in plain packaging and sent to the parent/guardian of the child concerned. This is so that you order early and can hide your letter until you're ready to give it to your child.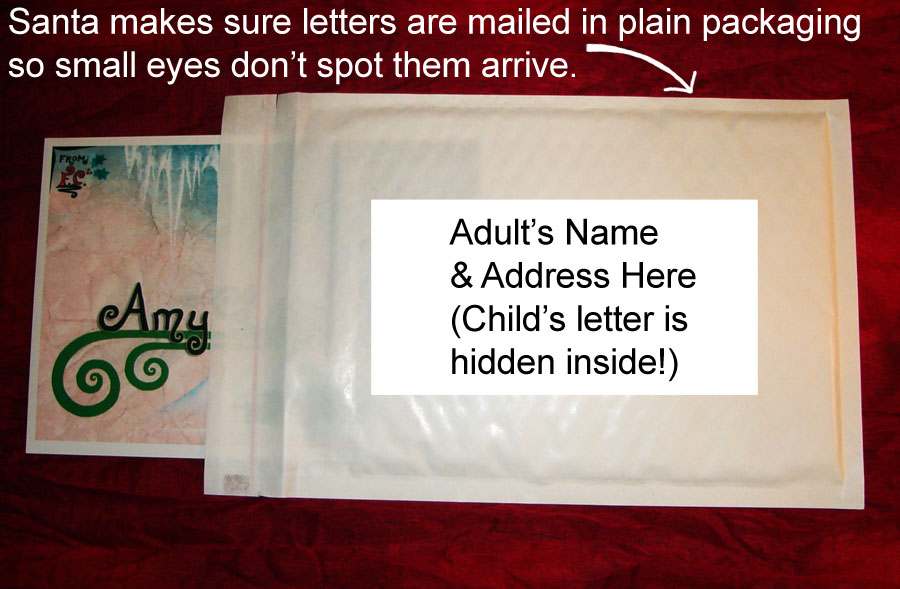 Two Types of Letter
Many parents like their child to get a letter in the run up to Christmas, so that they can can find out what magical things are going on at Santa's house. With this in mind, we've created a range of Before Christmas letters which tell you all his news. They're a great way to feel the Christmas excitement build up, not to mention encourage good behaviour! If, on the other hand, you're looking for a letter to add that extra touch of magic to Christmas Day, you can choose from our Christmas Morning range. These letters are left by Father Christmas as he whizzes around the world on his sleigh and should be read as soon as your child wakes up on December 25th. As with all our letters, you can order them as early as you like because they will arrive in plain packaging with your name on it, so that it looks like an ordinary piece of mail and attracts no attention from curious little eyes.
Our Author
Well, you already know all about him – it's Father Christmas of course!  However, the lady who helps him write and illustrate his letters is Leone Annabella Betts.  She's a warm, imaginative storyteller and artist who tells us that of the many projects she takes on each year, working with Father Christmas remains one of her favourites.  We commision new letters from her annually.
Our Ethos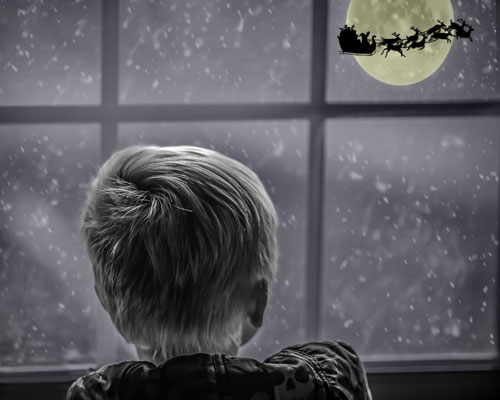 Finally, we'd like to add that a great deal of love and care has gone into creating our letters. We are a small, family business and we believe that Father Christmas and the myths surrounding him are an important part of childhood and a wonderful way to help children grow their imaginations. We understand that every family has their own, special Santa Claus traditions, but we try to make our letters work for everyone. That said, every child's letter matters to us and as the nights draw in and the orders arrive in our inbox, rest assured that we will do as good a job delivering magic to your child as we would to our own.
We thank you for your visit to this site and hope you and yours have a very merry Christmas!
Warm wishes,
The Rooftop Post Team
P. S. Feeling the pinch this Christmas? We're sorry to hear that and we do have some free letters you can print out in the printables area of our site. They can't be personalised of course, but they're still magical – plus they're useful if you miss out last ordering dates!