What's this letter about?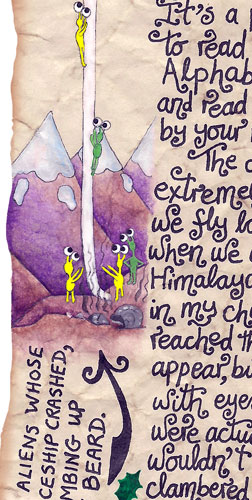 Quick Rundown:
It's late at night, your child is fast asleep and Father Christmas has just landed to deliver his or her presents and dash off this letter.
It has been difficult flight on Santa's sleigh.  First he dropped his spectacles somewhere over France, then, for no apparent reason, his beard began to grow. And grow. And grow. This letter tells your little one all about it but in case you haven't guessed, it has to do with aliens. Nice aliens mind you, trying to find their way home.
More Detail:
"Father Christmas and the Flying Saucer" is a funny, magical letter which is especially appealing to any child interested in space and creatures from other worlds.  Father Christmas's pet owl, Alphabeticus, is also with him on the sleigh in this letter, making it a nice choice for children who like birds.
Although Father Christmas writes this letter while dropping off the presents, it is carefully worded not to make it sound as though it has to be at "your house". This is so that if your child is waking up away from home on Christmas Morning, for example at a friend or relative's house, it would still be a suitable read. (All you need to do is leave it somewhere for your little one to find.)
It's brilliant for children with great imagination and an equally good choice for boys and girls.
Get this letter
Click here or on the picture below to print your Father Christmas and the Flying Saucer letter – it's completely free but we'd be really grateful if you'd share a link/like us on Facebook or Twitter or in the real world, just tell a friend. Thank you – without visitors our little site can't survive.

Need a Back?
Don't forget, you can get that extra authentic look by printing a matching decorative design on the reverse of your Father Christmas letter.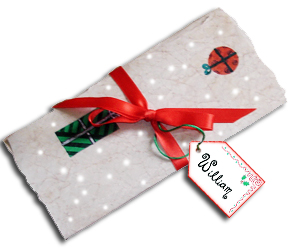 You might also enjoy these: