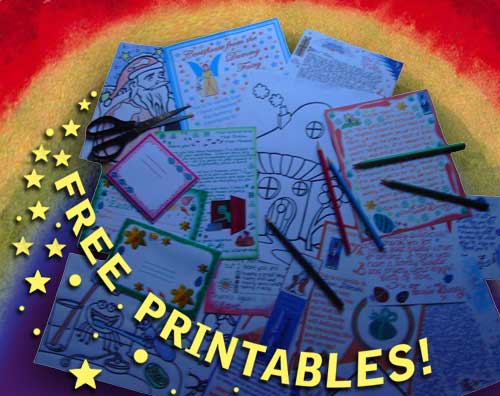 Hi!  Whenever we have new printables, we post updates about them here.
Just scroll down to find out about the latest freebies from Fairyland.

For little ones who love fairies, these easy-to-make garlands are a great way to make a fairy party look magical.  They also look great in bedrooms… where the fairies can watch over you all night long. To make this decoration, you will need: How to Make Your Summer Sky Fairy Garland: STEP 1 Decide how … Continue reading Fairy Garlands →
It's summer in the Northern Hemisphere,  officially from 21st June to 22nd of September 2017, and for many families, this means celebrations of all kinds.  Perhaps you have a summer birthday in your clan?  Or you can't wait to treat the kids to a barbecue?  Maybe you're a fan of Midsummer Night's Eve?  Or you … Continue reading Summer Party Garlands →
Ah spring.  (At least if, like us, you're in the northern hemisphere.)  The lambs, the daffodils, the bluebells, the light.  Goodness, we've missed the light.  And of course, Easter around the corner.  It's always a bit of rush in our house to get everything done, unlike Christmas, which seems to be hanging around from September … Continue reading Easter Picks →
There are many beautiful Tooth Fairy letters out there in the cloud and some of the loveliest ones are very small.  Fairy-sized in fact.  However, it can be rather fiddly to find a tiny pen (and perhaps your strongest reading glasses!) to write one yourself, so we thought we'd post a couple that are ready-written … Continue reading Make a Miniature Tooth Fairy Letter →
Hello dear visitors!  First of all a big thank you to all of you who have dropped us a line since the new year with your fairy requests and ideas.  We LOVE to hear your thoughts.  As you know, we don't always have time to make everything we would want to, but we do try … Continue reading Your Fairy Ideas →
Hello visitor!  If you're a regular you may have noticed we've been adding to our birthday printables lately, with a special focus on certificates.  However, because they're from all sorts of magical people, they're scattered all over the site.  This page is here to bring them all together so you can see what's new. All … Continue reading Birthday Certificates →
With Christmas over and the new year at the starting block, we thought we'd list a few of our favourite printables for January. Some are new and some are old favourites but our site is getting so big that we thought a little list might help make sure there's no mid-winter magic you've missed. 1 … Continue reading Our Top Picks for January →
Can you feel the Christmas magic yet?  No doubt the kids can and are getting ready to write that all-important letter to Santa and Christmas list!  With this in mind, we thought we'd put together a quick post to highlight all our free letter to Santa and Christmas list templates.  So, if your child is … Continue reading Letters to Santa and Christmas Lists →
This month we've been adding a few more colouring in pages to our site.  Here they are, all in one place: More coming soon!
This printable fruit garland is a great way to decorate your house for summer parties, barbecues or just because you want to freshen up your child's bedroom.  All you need is a printer, a pair of scissors, some wool/string and (optionally) some glue. We know you can probably make this garland without instructions, but we've … Continue reading Printable Fruit Garland →
---