Tiny Tooth Fairy envelopes come in pairs.  The idea is that you use one for a tooth and one for the payment for that tooth, (for example money in the form of a coin or folded note).  You give one envelope to your child to put his or her tooth in, then keep the other one yourself, pop some money inside and quietly swap them over while your little one's asleep.
Our tiny Tooth Fairy envelopes are a magical way to exchange teeth for money when a tooth falls out.  To make them, you will need a printer (obviously!), a pair of scissors and some glue or tape.  Oh, and some money of course.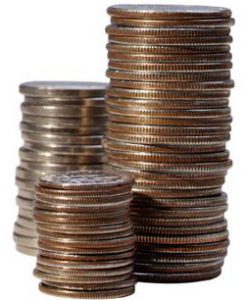 How much money does the Tooth Fairy bring?
Now there's a question.  Once you, the Tooth Fairy, have made your teeny tiny envelope, how much should you put inside?  To answer this question, we hunted around the web and asked friends, family and just about everyone else we knew.  It seems to vary considerably, between £1.00 right up to a tenner!  (Apologies to all non UK readers, we're based in England so we can't easily comment on what you would get elsewhere.)
We also found that, (perhaps unsurprisingly), more affluent families, or at least families living in more affluent areas, tended to give higher amounts.  However, when we asked the actual children, we found that most of the time they didn't have the faintest idea how much they'd received.  In fact, the only thing which seemed to stick in their minds was the sheer delight that the tooth had disappeared and something else had taken its place.  In short, it's not the money but the magic that counts.
Oh, and for those of you who are wondering, in our house it's a shiny pound coin… and a whole heap of fairy dust!
---
You may also like these:
Or you could try our new tiny Tooth Fairy letters, fairy-sized for extra magic!