If you've got a child who thinks there's a monster in his or her bedroom, wardrobe or house, these letters might be the answer.  Each one is from a monster saying that he is fed up living with your child and has decided to move out.  (Some of them are very funny.)  Just print the letter you want and leave it somewhere for your child to find.  We hope it does the trick.
If you particularly enjoy one of our resources, please let us know by liking it on Facebook – that's how we decide which ones to make more of.  Thanks.
We are sometimes asked who helps the monsters write these letters, so for anyone who wants to know it is a writer/illustrator called Leone Annabella Betts.  Some of you will already be familiar with her work helping Santa Claus write his story-letters at Christmas.  For additional details about individual letters, just scroll down and read the text at the bottom of any monster letter resource page.  Other contributors, if any, will be credited there.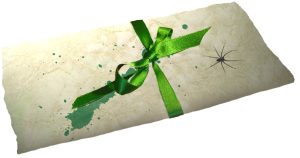 If you want to make your monster letter look extra authentic, just turn it over and print one of these backs, then cut it out and tie with a ribbon.