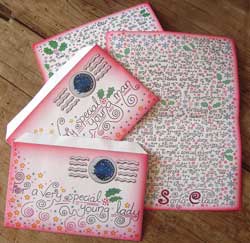 Do you need a note from Santa to remind your child to be good?  Or perhaps a reminder to leave a carrot for the reindeer?  Or maybe you need Father Christmas to reassure your child that he knows where to come now that you've moved house.  Whatever your requirements, we hope you'll find the perfect Christmas note from him here.
These little messages are among our most popular resources,   They're a great way to spread a little extra Christmas magic and should also save you time. Just print the note of your choice, cut it out and leave it somewhere for your child to find when he/she wakes up in the morning. It's such fun to see the surprise on a little one's face!
<<Don't forget we've got FREE full-length Santa letters too!>>
To help you find the note you need quickly, we've organised them under these subheadings:
Well Done Notes:
Christmas Eve Notes:
Christmas List & Nice List Notes:
Reminders to Be Good:
Other Occasions:
Envelopes:

To get the best out of your free Santa note, click on the one you want above, print it, cut it out, then fold it up and place it into one of Santa's little envelopes. If you've got some glitter to sprinkle in for extra magic, all the better. To create your Santa letter, you will need: paper, a printer and some glue (for the envelope). Good luck!
Don't forget to print a letter envelope from Santa too, there's one for boys and one for girls.
Please Note: Our printable Father Christmas notes are completely free but please respect our artists' copyright and don't use them on other websites. Santa has worked very hard on them and he would hate to think of anyone cashing in on them for commercial purposes – they're only for your own personal use.  Read more about copyright…
Save
Save