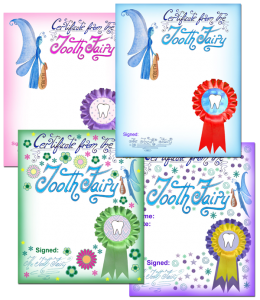 We know that try as we might, we can never foresee all the things you might need to put on a Tooth Fairy certificate.  So we've made a few blank templates for you to write on below.  Whether your little one is a flower fiend, potty about pink or just enjoys the simple magic of sky blue hues, there should be a design to fit.
As with all our certificates, the Tooth Fairy's signature is in place at the bottom but a large blank space has been left so that you can add the details of the award in your own special Tooth Fairy words.
How to Use Our Blank Certificates:
Each certificate is basically an image and to type on them, we suggest you download and save the one you like.  You can save them as images or as editable PDFs.  You will see buttons to download editable PDFs below each certificate.  Just click on the one you want below, then scroll down the next page.
If you decide to save them as images instead, the best way to type on them is to open the one you want using your favourite graphics editor.  We use Photoshop but if you're looking for something free, Gimp is our favourite.  If you'd like more choice, techradar.com have listed a whole pile of other free image editors here.  Of course you can also type over an image in Microsoft Word, once you have cut and pasted it into your document.
We hope you find these useful and that the Tooth Fairy brings a bit of extra magic to your little boy or girl.
Don't forget we have lots of other pre-written Tooth Fairy notes and certificates too.