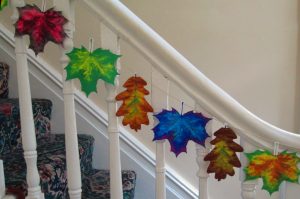 Our printable paper leaves are popular decorations for all kind of occasions and events.  Why not use them to bring the autumn (fall) into your home this year – they look so pretty to strung along shelves or hung on the walls.  We love them! 
BTW, there's a video we made to help you:
How to Make Paper Leaves
People tell us these types of decorations are particularly handy for Hallowe'en, Thanksgiving, autumn birthdays, Harvest Festival, or just as dinner party decorations which reflect the changing seasons of the Great Outdoors.  They can also be used to create homemade mobiles.  To make them you will need a printer (obviously!), good quality white paper or card, some glue and a pair of sharp scissors.  Further crafting tips can be found at the bottom of this page.
Crafting tips for paper leaves: Cut around the leaves (along the black line) as best you can, then fold along the dotted line and glue together. Once the clue is dry, cut away any overlap – don't be afraid to cut into the leaf and reshape it slightly if you need to to get it looking really good.  Be sure to leave enough unglued space at the top of the stalk to thread a piece of string through.  These tips are all covered in our crafting video.