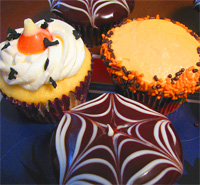 Are you baking some Halloween cupcakes this year?
Why not scare them up a little with some spooktacular homemade cupcake wrappers.
They'll be shaking at your baking!
Oh, and if you're wondering which type of cupcake wrappers below is the most popular with our visitors, it is without doubt the spiders.  (There's just something about all those creepy crawly legs… shiver!) 
For more Halloween printables, you might want to take a peek at our main Halloween page.
If you've had fun with these, you should also check out: