Please follow and share us: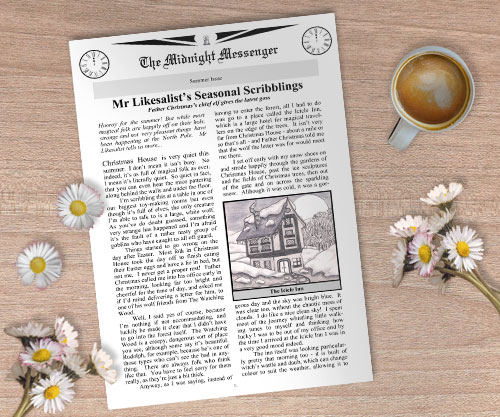 Hello dear visitors!  By popular demand, we've uploaded a summer issue of our Fairyland newspaper, the Midnight Messenger, for you to print for your child.  Although the world is finally recovering from the pandemic, we especially hope it will help entertain those of you having to self-isolate thanks to catching Covid-19.
In this issue you can find out what's been happening at Christmas House, where the Easter Bunny has been on holiday and what the Tooth Fairy's been up to as of late.  As always, our thanks to Leone Betts for all her hard work putting it together and for allowing us to make it free on this site.
Are you looking for the previous issue? It's here.
What is the Midnight Messenger?
The Midnight Messenger is the newspaper which gets delivered all around the magical world – read by everyone from Santa and his elves to the Tooth Fairy, the Easter Bunny, and every other magical personality you can think of. And this summer, your child can read it too!
We've uploaded it as a PDF.  Just click here or on the picture below to download or view it.  It's completely free.  We hope it makes you and your little ones smile.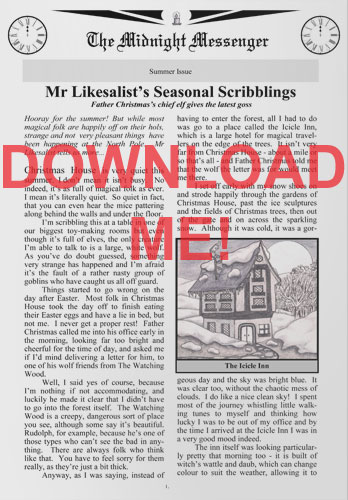 P. S.
If you enjoy this resource, please consider telling others. Our site survives because of people like you using it. Thanks x
More About the Midnight Messenger:
For those of you after more information about our Fairyland newspaper, it was first created in 2003 by L A Betts. It was early days for our site and as we didn't have many visitors back then, after a couple of years we retired it. However, it carried on being delivered every month to magical folk of course, and has often mentioned in our other creations, such as the Father Christmas letters.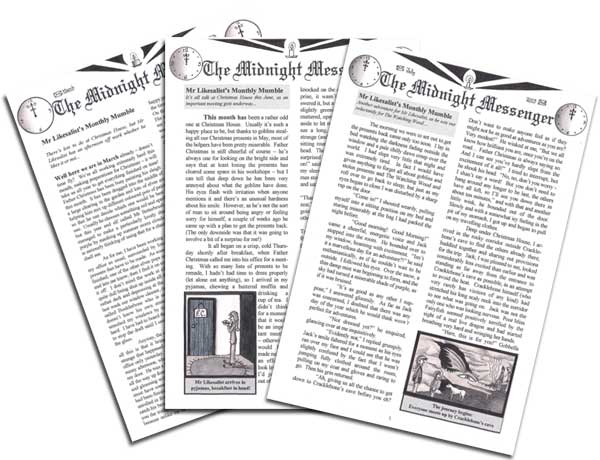 The Midnight Messenger is normally in black and white, but special issues like the one for Easter, are in colour. It regularly features news from well-known parts of the magical world, like Father Christmas's house in the North Pole, and features many familiar characters such as Jack Frost, the Sandman and the Tooth Fairy. But it also features new characters your child won't have heard of, such as the Worrying Witch, the Fortune-Telling Toad and all sorts of goblins, fairies and elves.
It's always hard to know what people want more of, but if we sense the Midnight Messenger is popular, we'll consider adding further issues to our site.