Please follow and share us:
Can you feel the Christmas magic yet?  No doubt the kids can and are getting ready to write that all-important letter to Santa and Christmas list!  With this in mind, we thought we'd put together a quick post to highlight all our free letter to Santa and Christmas list templates.  So, if your child is writing his or her Christmas correspondence to that magical man at the North pole this week, perhaps these will come in handy:
Need a Reply?
If your child has written a letter and/or Christmas list, or drawn a picture for Santa, you may be looking for a reply.  Obviously, we have to keep it general, but we've created the following resources to help you out:
And don't forget we create a range of longer free letters from Santa too!
Need a Reminder?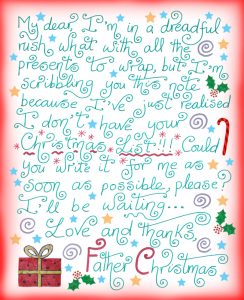 If the Christmas clock is ticking and your little one is dragging his or her heels about getting that Christmas List written, this little reminder from Father Christmas may just do the trick. Good luck and have a very merry Christmas – ho, ho, ho! x
Santa Claus or Father Christmas?
Many of our letters to Santa Claus are also available as letters to Father Christmas. This is because we know that people in different families and places call him by different names. In the UK, we find the preference is for "Father Christmas", in the USA it's "Santa".
We're sorry that we haven't managed to provide two versions of absolutely every resource – we've had a lot to do and have been short on time. However, if there is an alternative version of any of our letters, you'll be able to see a note and a link underneath it.