These notes from the the Easter Bunny are a great way to add a bit of magic to your child's Easter.
They are for all sorts of situations.  For example, there's a note to encourage your child to eat more fruit, one to reassure your child that the Easter Bunny will know where to find him/her if you're away from home on holiday this Easter, and one reminding him/her it's important to be good until Easter.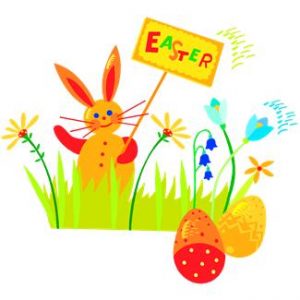 One of our most popular Easter Bunny notes has long been "I've Hidden Easter Eggs Around Your House", it's a great little addition if you're preparing an Easter egg hunt on Easter Morning.  we often do this in our family – and it's just magical to see the little faces when they think that the Easter Bunny has not only written to them, but hidden the eggs for them to find.
We plan to keep adding to these notes whenever we can find the time and we hope you enjoy them.
Easter Bunny Cards

Would you rather print a little card from the Easter Bunny instead of the usual note?  If so, we've added a few cute four fold cards from him below, some with a rabbit paw print inside! They're a great way of bringing some extra fun to your little ones on Easter Morning.  Just print, cut and fold.
Don't forget, you might also want to check out our Easter Bunny paw print envelope to pop your four fold cards in.