PRIVACY & SECURITY
THE ROOFTOP POST PRIVACY COMMITMENT: 
Your privacy is really important to us. This notice is here to let you know what information we collect about you, how we store it and how you can manage it.  We have updated our practices to comply with GDPR.
If you have any questions, you can always drop us a line at:


Or at: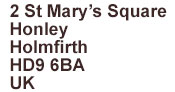 BELOW ARE THE TYPES OF INFORMATION WE COLLECT:
OPT-IN MAILING LIST:

If you decide to join our mailing list, we usually collect your first name, surname and email address.  You will not be added to one of our mailing lists without your explicit permission.
We use a company called MailChimp to store our mailing lists securely, and to write and send our newsletters to you.  MailChimp are committed to GDPR compliance.  You can delete yourself and your details from our mailing list at any time.  If have any problems doing this, let us know and we will do it for you.
COOKIES:

You can find more detailed information about the cookies we use on this website on our dedicated Cookie Policy page.
Cookies are little data files which your computer stores when you visit websites. We use cookies on our site so that it can perform a number of tasks such as connecting to social networks and analysing our traffic.  Facebook and Google Analytics cookies are examples of this.
When you first use our website, you will be asked to actively give permission for cookie use. 
We participate in Google Adsense, which means that third party vendors, including Google and its partners, use cookies to serve ads based on a user's prior visits to the Rooftop Post website and/or other sites.  Find out more about how Google uses and information from sites that use its apps an services. To read more about this, please see our cookie policy page.
You might also find it useful to know that if you are signed into a Google account, you can opt out of the use of cookies for interest-based advertising by visiting the ads preference manager.
USE AND STORAGE OF DATA:

If you contact us, we will use the information you give us (such as your name and email address) to get in touch with you should that prove necessary.
We do not share information about you with outside parties except to the extent necessary to run our website and serve ads on it.  We do not share personally identifiable data.  We also keep the data we collect about you to a minimum.  Neither us, advertisers or our advertising partners can gain personally identifiable information from the cookies on our site.  Read more about our cookies.
If you want to know what information we have about you, you have the right to ask us to supply it.
YOUR RIGHT TO BE FORGOTTEN:

We are strong advocates of the right to be forgotten online and we will delete the information we have collected about you if you ask us to.
If you would like us to delete your data, please contact us and let us know.  We will get back to you within two weeks of your request.  If, for any reason, it takes us longer than that to confirm that we have deleted your data, we will let you know straight away and explain why.
Please rest assured that no one at Rooftop Post would knowingly misuse your data in any way.
If you have used our online shop in the past:
Our online shop as been closed since December 2017.
If you have purchased letters from us in the past, rest assured that any data we had about you will have been deleted after 25th May 2018, in order to comply with GDPR.
OUR COMMITMENT TO CHILDREN'S PRIVACY:
Protecting the privacy of the young is something we take very seriously, and we do not answer any emails or other messages which we think may be from someone under 18.
FURTHER INFORMATION:
If you want to read the full Terms and Conditions for this site, please click here.
If you want to read about how this site uses cookies, please click here.
If you want to read our Frequently Asked Questions, please click here.
If you are wondering where our online Santa letter shop went, there's an explanation here.