Click here or on the picture below to print your Tooth Fairy letter – it's completely free but we'd really appreciate a link on Facebook, Twitter or LinkedIn if you like it. Thank you.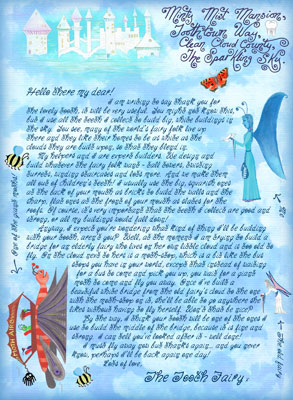 This letter is typed in a curly font. (If you are looking for a handwritten letter, you may wish to make a different choice.)

What's it about? All our letters from the Tooth Fairy are based on the idea that she is the builder of Fairyland.  It explains that she uses the teeth to help her build magical white castles in the sky.  In this particular letter, the Tooth Fairy tells of how she will use the tooth she has just collected to help build a bridge between clouds for an old fairy who can't get about as easily as she used to. It is a good choice as a first letter, though it doesn't have to be used as such.
Like this? Get some more Tooth Fairy letters or check out our little Tooth Fairy notes.
Further Info: In case you were wondering, all our Tooth Fairy letters are written using the idea that she is the builder of Fairyland – and that she uses all the teeth to build beautiful white fairy castles in the clouds. You can find out more about the Tooth Fairy here. We are also often asked who creates our letters – you can read more about their author here.
Terms of Use: Copyright of this Tooth Fairy letter remains with its author, L A Betts, who has given permission for it to be downloaded and/or printed for personal use. It may not be used commercially. For more information you can either contact the author or read Rooftop Post's Terms of Use.
Don't forget, you can get that extra authentic look by printing a decorative cloud design on the reverse of your Tooth Fairy letter.
You might also enjoy these: