Please follow and share us: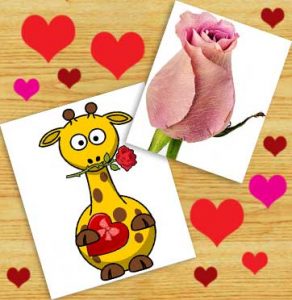 Hello!  We generally create printables for children but these days, Valentine's day is for everyone.  Far from being just for couples, we're seeing cards sending love to all sorts of family members and friends, not to mention the wider world.  Pink and red decorations appear in shops and homes alike and some people are even using it as an opportunity to spoil themselves.  And why not?  It"s good to love yourself, too.
So, with the aim of moving with the times, we've put the printables we thought you might find useful this Valentine's Day here on one page.  Thinking that the kids might want to help out, we've focussed on printable four-fold cards and colouring in.  We hope you, your children, your family and whoever else is special to you enjoy them.  Oh, and from all of us here at Rooftop Post, have a happy and magical Valentine's.
What to write in your Valentine's Card:
It's never easy to think what to write in your Valentine's card, and of course, a lot depends on who you're writing to.
From a Secret Admirer
For example, if you're sending a card from a secret admirer, it's best to stick to funny or lightly romantic – as a mystery sender you don't want to sound too serious (because that can make some people nervous) and it's attractive to have a sense of humour.   If you're really stuck, here are a couple of ideas:
I'm sending you this Valentine's card to let you know that whenever I see you, you make me smile.  Have a wonderful day!
Roses are red,
Violets are blue,
I'm incredibly lucky
To be friends with you!
I like you.  Even more than chocolate/football/any other (light-hearted) favourite thing.  Have a very happy Valentine's Day!
You're that "nothing" when people ask me what I'm thinking about.
For a Partner
On the other hand, if you're writing to a long-term partner, pretty much anything goes.  You know their likes and dislikes better than anyone, and even though you might feel as if you can't think of anything, just take the plunge because most of your thoughts will be appreciated.  Remember, this person already likes or loves you.  If you're really stuck, thanking them for all they do and is a good start, and should get you thinking about what those things are.  Name them, if you can.  After all, letting someone know you've noticed all those small ways they make your life nicer is always going to make them smile.
For Family and Friends
For friends or non-romantic family, think of the sorts of things you'd put in a normal greetings card and just edit those sentiments a bit to suit Valentine's.  Here are some examples:
Happy Valentine's Day!  I wanted to send you a card to say I hope your life is filled with love for the whole year ahead.
As it's Valentine's, I just wanted to let you know how much you are loved and appreciated by me (and all the family).   Have a great day.
Wishing you a very happy Valentine's Day from a family who loves you.
To my best friend, I thought I'd use Valentine's Day to send you lots of love and let you know how special you are.  My world is about a million times better for having you in it.