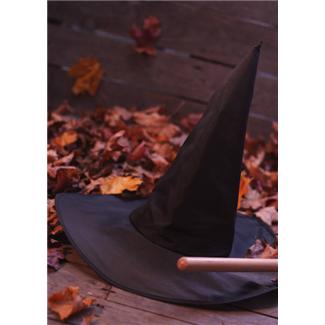 Hello there!  It's that SCAAAAAAARY time of year!!!  However, here at Rooftop Post we try to keep it friendly and fun, so as not to spook the little ones. (Basically, we try not to overdose on the old blood and gore.) So if you're looking for family-friendly Halloween printables, we've put a few together for you.  Some are decorations for your house, such as paper leaves and bunting, but we've also got other bits and pieces such as reward certificates and party bags.  You can find links to them below, so that you can easily browse through.  We hope you find something useful.
Halloween Witch's Pantry Labels
Wondering which Halloween resources are the most popular with other parents?
Here's a quick reverse order run down of our top 5…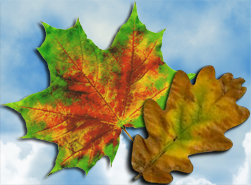 5.  At number five is our printable leaves – popular for autumnal events of any kind and if you make enough of them we bet they'll add that deep, dark, scary forest look to your home this Halloween!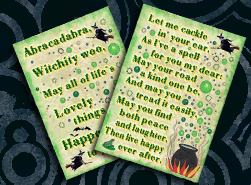 4. Witchy Wall Spells are next – lighthearted little poems to hang on the wall, stick to your fridge or give away to your Halloween party guests.  They're very positive in tone and bound to make any child feel good.
3. Happy Halloween Father Christmas Letter This one always makes us laugh because we nearly didn't upload it.  Who, we wondered, wants a note from Father Christmas saying "Happy Halloween"?!  Well you do, apparently.  And in a way it's not that surprising when you think about it – I mean, why miss the chance to remind them Christmas is around the corner so it's time for those extra efforts to be good.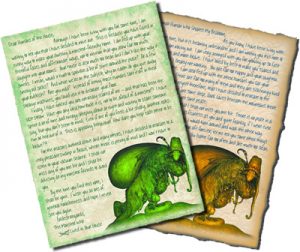 2. Letter from the Monster in the Wardrobe / Letter from the Monster in Your House  Ok.  Not strictly Halloween resources in that they van be used at any time of year, but the hits on these pages goe MAD at Halloween.  They're funny, charming letters from monsters saying that they're moving out of a child's house or bedroom because he/she is much too brave.  If you've got a child who's a bit worried about monsters, these should do the trick.  We suspect though, that they're mainly printed out for a bit of extra fun.  let's face it, you're never too old for a bit of monster magic.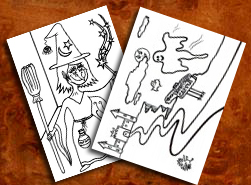 1. Halloween Colouring  Ah the old ones are the best.  It's nice to think that no matter what the occasion, what children like most is to get their crayons out for a bit of good old-fashioned colouring in.  Very relaxing.  We recommend it, especially to our UK visitors, who like us are often faced with a rain-filled Halloween and the need for kids to do something indoors.