Please follow and share us:

This printable fruit garland is a great way to decorate your house for summer parties, barbecues or just because you want to freshen up your child's bedroom.  All you need is a printer, a pair of scissors, some wool/string and (optionally) some glue.

We know you can probably make this garland without instructions, but we've added some steps below, just to help out.  We hope you (and your children) have as much fun making it as we did!

How to Make Your Fruit Garland:
STEP 1
Print the slices of fruit you want to include in your garland by clicking on the pictures below.  (Each one will take you to a pdf file of that fruit.)
STEP 2

Carefully cut out your fruit slices and fold them in half.  Each one is a perfect circle, to make this easy.
STEP 3
Hang the folded fruit slices over a piece of string or wool.  TIP: If you are making a long garland and you find the fruit slices are sliding about, tie knots in the string in between each one, to keep them in place.  Alternatively, stretch the string straight (like a washing line) and smear/brush some glue along it, then place the fruit slices where you want them before leaving to dry.  Once dry, they should stay in place.
STEP 4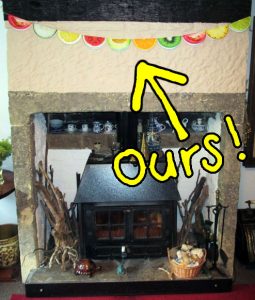 Hang it somewhere in your home!  We chose our fireplace because we were a bit short on time… but you can probably think of somewhere much nicer.  They do look especially nice in children's bedrooms.