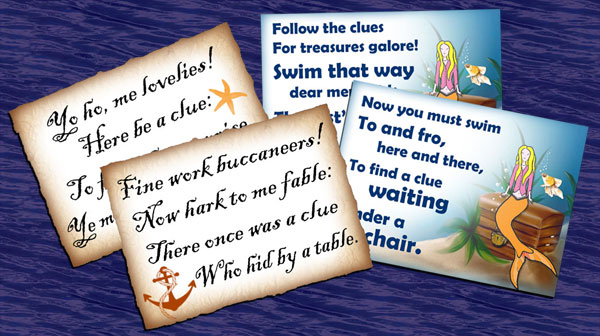 This week we've put together two sets of rhyming clues for treasure hunts.  One is a pirate theme, the other is for mermaids.  They make a great activity for birthday parties or any other family gathering where there are children to entertain.
What You Need:
A printer, obviously, and a pair of scissors.  You'll also have to think of a prize (or "treasure") you can put at the end of the hunt, with the very last clue.  For the pirate treasure hunt, you'll need an egg to place one of the clues next to, as you'll see when you read the rhymes.
If you need more help: Scroll down, there are suggestions for hiding each clue lower down. 
Just print the clues, cut them out and hide around the house accordingly.   (There are PDF buttons underneath each set of clues to make printing extra-easy.)
Pirate Treasure Hunt Clues: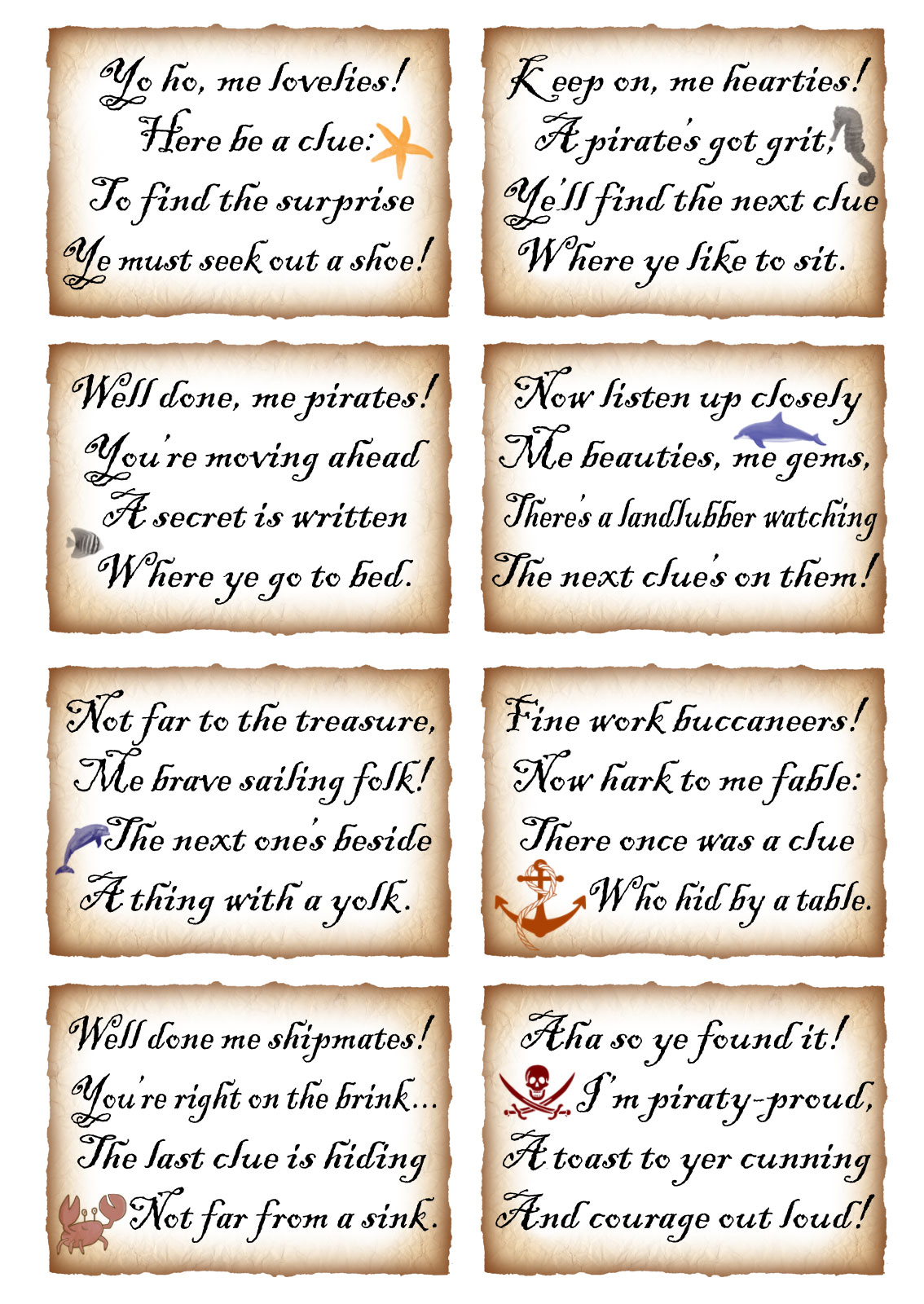 Mermaid Treasure Hunt Clues: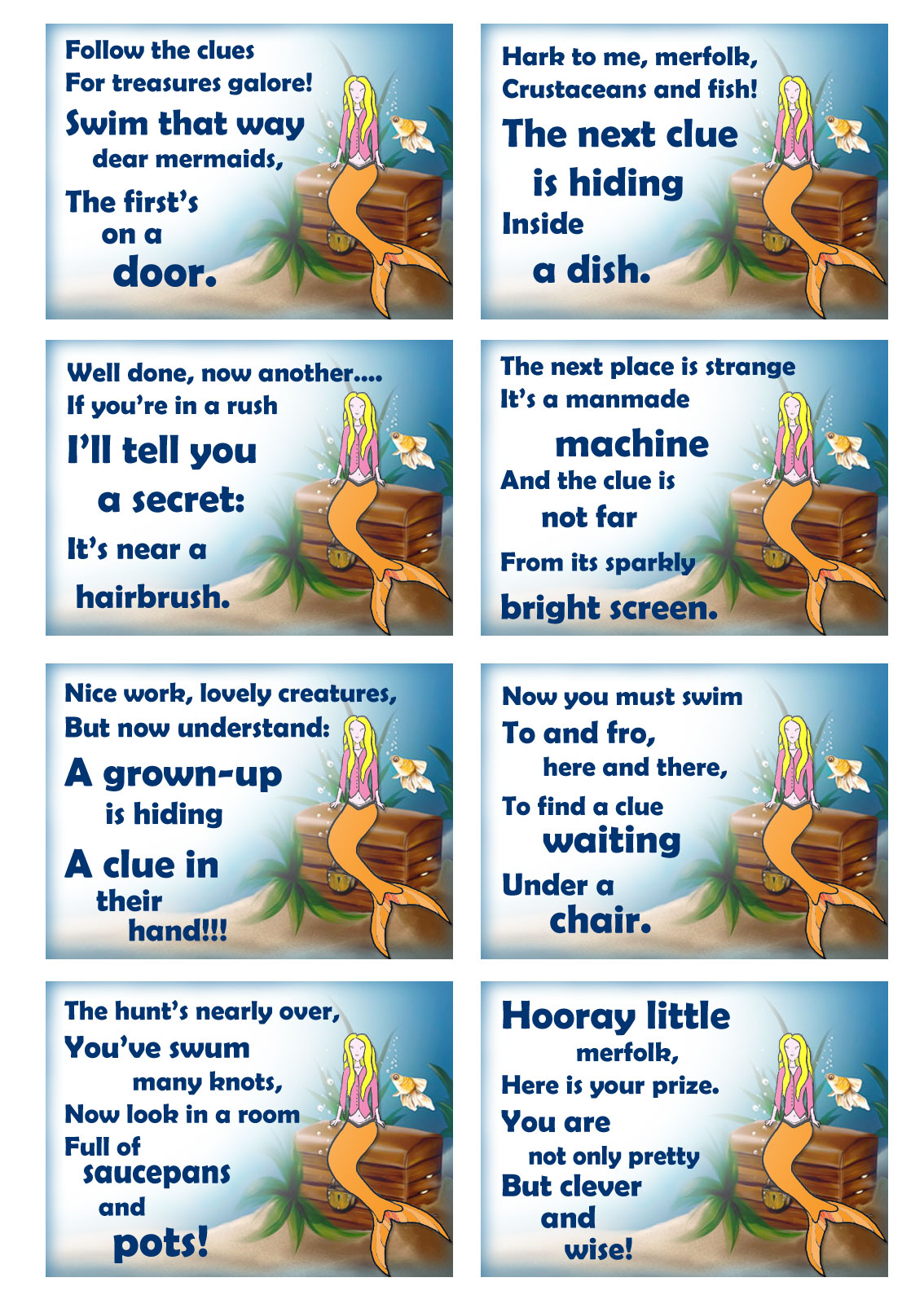 Further Help: 
When planning your treasure hunt, here are some questions to ask yourself and extra ideas for each clue below.
Whole House or Certain Rooms?
If you're planning this scavenger hunt for a children's party, you might want to make it clear which rooms they should look in and which are off-limits – just in case you don't want a million little hands rifling through every cupboard in the house!
Competition or Team Work Game? 
You might also want to decide whether your treasure hunt is a competition or not.  Does the first person to get to the end get the prize?  Or is it about team work?  If it's the former, make it clear that clues must be left where you found them, so that the next player can find them too.  If it's the latter, make sure there's some "treasure" for everyone at the end.
Tips and Suggestions for Each Verse of Pirate Clues:
Yo ho, me lovelies!
Here be a clue:
To find the surprise
Ye must seek out a shoe!
Just pop the clue into any shoe that the children are likely to find.  If you want to make it easier, you could point them to the right room.
Keep on, me hearties!
A pirate's got grit,
Ye'll find the next clue
Where ye like to sit.
Place the clue under/on/under the cushion of a chair.  It could be a dining chair, armchair, rocking chair and so on. 
Well done, me pirates!
You're moving ahead
A secret is written
Where ye go to bed.

This one's easy – just hide the clue in a bed.  If it's a party and you don't want children in every room, make it clear which bedrooms are off-limits. 
Now listen up closely
Me beauties, me gems,
There's a landlubber watching
The next clue's on them!

You or another adult should hide the next clue about your (or their) person.  Perhaps in a pocket or, if you're joining in the festivities, under the pirate hat you've got on!
Not far to the treasure,
Me brave sailing folk!
The next one's beside
A thing with a yolk.

You'll need to place the next clue near an egg.  Perhaps in the fridge or egg basket?  If you don't have a real egg in the house, you could always draw one, cut it out, pin it to a wall and put the clue beside it.
Fine work buccaneers!
Now hark to me fable:
There once was a clue
Who hid by a table.
Any table will do here – if you're feeling crafty, tape the clue underneath it rather than leaving it on top. 
Well done me shipmates!
You're right on the brink…
The last clue is hiding
Not far from a sink.

Could be the bathroom or the kitchen – just hide the clue in or near a sink.
Aha so ye found it!
I'm piraty-proud,
A toast to yer cunning
And courage out loud!

The "treasure" should be left with this clue.  It can be anything – chocolate, sweets, a toy.  Might be a nice touch to make it a piraty gift, arrr!  If this treasure hunt wasn't a competition, make sure there are enough goodies for everyone.  You could always include one of our pirate certificates at the end for whoever got there first.  This one, for an Honorary Pirate one would be a good fit: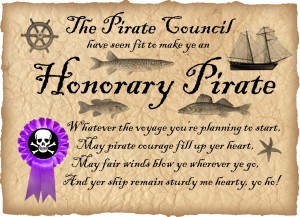 Tips and Suggestions for Each Verse of Mermaid Clues:
Follow the clues
For treasures galore!
Swim that way dear mermaids,
The first's on a door.

Pick any door in your house and stick/pin the next clue to it.  If you want to make it harder, you could choose a less obvious door, such as the door to a wardrobe… or even a cat door! 
Hark to me, merfolk,
Crustaceans and fish!
The next clue is hiding
Inside a dish.  
Pop the next clue inside a dish, any dish you know the children will find.  Might be best not to choose a valuable one though, in case it gets broken. 
Well done, now another….
If you're in a rush
I'll tell you a secret:
It's near a hairbrush.

Hide the clue near a hairbrush.  If the children don't know where to look, you could always point them towards the correct room. 
The next place is strange
It's a manmade machine
And the clue is not far
From its sparkly bright screen.  
This "manmade machine" with a "sparkly bright screen" could be a TV, a laptop, a desktop, or even a tablet.  (In theory, it could even be a phone but that might be hard for them to guess.)  Hide the next clue near whichever device you have in your house – we always use the TV.  
Nice work, lovely creatures,
But now understand:
A grown-up is hiding
A clue in their hand!!!  
This could be you or one of the other grown-up friends/parents.  Give them the clue before the game starts and tell them fold it up small and hide it in a fist.  Pick someone who doesn't mind having their hand prised open by small fingers!
Now you must swim
To and fro, here and there,
To find a clue waiting
Under a chair.

Any chair in the house will do for the next clue.  You could hide it under the chair's cushion, under the chair itself, or tape it to the back of the chair. 
The hunt's nearly over,
You've swum many knots,
Now look in a room
Full of saucepans and pots!  
Clearly, the next clue needs to be hidden in the kitchen.  You can make finding it as easy or as difficult as you like. 
Hooray little merfolk,
Here is your prize.
You are not only pretty
But clever and wise!

This is the last clue so some kind of mermaid treasure should be left here.  Sweets/candy is probably the most obvious prize – you could also add one of our free mermaid certificates.  The one below would be an easy choice because it doesn't require you to add a child's name.  (Obviously, if it's a competition you couldn't add a name in advance because you wouldn't know which child was going to get to the end first!):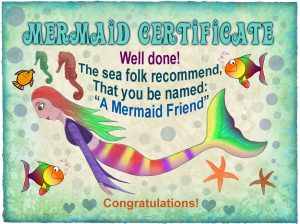 Attribution: All pirate and mermaid rhymes in the clues above were written by Leone Annabella Betts and have been reproduced on this site with her blessing.
Looking for More Pirate Party Ideas?
From around the internet, we like these: 
Make a Pirate's Treasure Map – This is a great idea for a pirate's party activity.  Just watch the BBC (CBeebies) video then get the children at your party making maps of their own.
Make a Pirate Treasure Chest – If you've got a bit of preparation time, this print and craft treasure chest from Tim's Printables might prove useful.  You make one for each guest, pop a couple of sweets inside and put it on the party table.
Buccaneer Eye Patches – Authentic looking eye patches to print out from Real Classroom Ideas.
Please note that we're not responsible for the content on these pages or the upkeep of their websites. 
On our site, you might like these:
Printable Pirate Certificates – All sorts of certificates for young pirates.  You can watch a video about making one here.
Pirate Cupcake Wrappers – Do pirates eat cupcakes?  Who knows?  But if they do, they'd be decorated with their own piraty wrappers.