If you're looking for things to print out for St George's Day this year, we've gathered all ours together below.  You might also want to check out our general dragon page for further ideas.
First off, here are a couple of St George certificates:
We have some dragon certificates available too, which might come in handy.  Here are a couple of examples – click here to see more:
We've also got some knight and dragon-themed colouring:
Looking to decorate your home or classroom?  You might find something useful in our collection of St George's Day bunting:
You might also like these free printable greetings cards:
St George's Day Story for Young Children
One of the problems with the St George's Day story is that like many old tales, it can be viewed as a bit violent and sexist by today's standards.  While this isn't such an issue for older children who can understand it's of its time, it can make it hard to tell to little ones.  With this in mind, we've created what we hope is a slightly more child-friendly version of the story.  We haven't changed the core narrative, but we have retold it by:
making it clear that this particular dragon was dangerous and cruel;
empowering the princess to take part in deciding her own fate, rather than just being treated as an object for her father to give away as a prize in a male battle;
glossing over the violence of the fight between the dragon and George, which in many of the older stories is a bit gory and drawn out.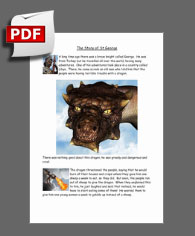 The PDF of our St George's Story for Children is free to download and we hope you find it useful.
St George Activity Idea for Older Children:
If you are dealing with older rather than younger children, you could create a great learning activity by telling them a more adult version of the story and asking them how they would change it to tell to a younger child, or to suit a modern audience.
Other Activities: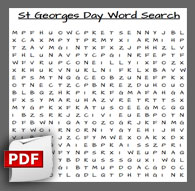 This St George's Day word search is another fun printable activity.  Just click/tap it to download the free PDF.
There are two more word searches below which are suitable for St George's Day.