The terms and conditions below govern the use of this website. By using our site and its free printables, you indicate that you accept the terms below and that you agree to abide by them. If you do not agree to these terms of use, please refrain from using our site.

PRIVACY & SECURITY
Here's what you need to know about Rooftop Post's commitment to privacy…
THE ROOFTOP POST PRIVACY COMMITMENT:
Your privacy is really important to us. This notice is here to let you know what information we collect about you, how we store it and how you can manage it. We have updated our practices to comply with GDPR.
If you have any questions, you can always drop us a line at:


BELOW ARE THE TYPES OF INFORMATION WE COLLECT:
OPT-IN MAILING LIST:

If you decide to join our mailing list, we usually collect your first name, surname and email address. You will not be added to one of our mailing lists without your explicit permission.
We use a company called MailChimp to store our mailing lists securely, and to write and send our newsletters to you. MailChimp are committed to GDPR compliance. You can delete yourself and your details from our mailing list at any time. If have any problems doing this, let us know and we will do it for you.
COOKIES:

To find out how this website uses cookies in detail, we encourage you to visit our dedicated Cookie Policy page.
However, if you want a more general overview instead, you can find that below:
Cookies are little data files which your computer stores when you visit websites. We use cookies on our site so that it can perform a number of tasks such as connecting to social networks and analysing our traffic. Facebook and Google Analytics cookies are examples of this.
When you first use our website, you will be asked to actively give permission for cookie use.
We participate in Google Adsense, which means that third party vendors, including Google and its partners, use cookies to serve ads based on a user's prior visits to the Rooftop Post website and/or other sites. Find out more about how Google uses and information from sites that use its apps an services. To read more about this, please see our cookie policy page.
You might also find it useful to know that if you are signed into a Google account, you can opt out of the use of cookies for interest-based advertising by visiting the ads preference manager.
In accordance with the General Data Protection Regulations, you will be asked whether or not you will accept cookies when you first visit out site. If you do not wish to do so, we have included the best advice we can about how to turn them off.

USE AND STORAGE OF OTHER INFORMATION:

We try not to collect personally identifiable information about you wherever possible but if you email us and tell us your name and email address, we will not share that, or any other information you give us, with outside parties unless you specifically request us to do so.
We keep certain information about people who email, telephone or write to us in a database. This can include your name, telephone number and/or email address. We have put in place appropriate physical, electronic, and managerial procedures to safeguard and secure this information, as well as any information we collect online. We constantly attempt to stop any unauthorised access and to maintain data accuracy.
HOW LONG WE KEEP YOUR DATA:
If we have any personal information about you that you have given us, we keep it for the time we are in contact with you and three months beyond that. This is to ensure that any ongoing communication/conversation we have with you is fully concluded. After that period, we will destroy your data.
DATA BREACH PROCEDURES WE HAVE IN PLACE
If there's a data breach and we have your email, we will let you know straight away. However, we don't normally collect emails (unless you contact us). Therefore, if we experience a data breach and we don't have your email, we'll put a notice up on our site, our Facebook page and a post on Twitter to let our users know. We will try to make these notices as prominent as possible.
YOUR RIGHTS OVER YOUR DATA:
If you want to know what information we have about you, you have the right to ask us to supply it. We are also happy to delete it – and you have the right to ask us to do that too. Please be aware though, that we might not actually have any data about you, as we regularly destroy any personal information we gather. To find out, just email us and we will get back to you within a few days:


Or write to us at: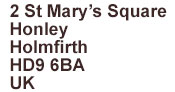 IF YOU HAVE USED OUR ONLINE SHOP IN THE PAST:

Our online shop as been closed since December 2017.
If you have purchased letters from us in the past, rest assured that any data we had about you will have been deleted after 25th May 2018, in order to comply with GDPR.
OUR COMMITMENT TO CHILDREN'S PRIVACY:
Protecting the privacy of the young is something we take very seriously, and we do not answer any emails or other messages which we think may be from someone under 18.
COPYRIGHT
The images and text on the Rooftop Post website are created by different people. Copyright of each piece of work ultimately remains with its author. We have created a special page to explain what you can and can't do with our printable resources. Please visit it by clicking here.

Father Christmas letters: Every year, we get asked about the copyright of our Father Christmas letters. All full length illustrated Father Christmas story-letters are created by Leone Annabella Betts. She has given us permission to offer them to parents for personal use only via this website.

GENERAL USE OF THIS WEBSITE

OUR LIABILITY
The material displayed on our site is provided without any guarantees, conditions or warranties as to its accuracy. To the extent permitted by law, we, and third parties connected to us hereby expressly exclude:
All conditions, warranties and other terms which might otherwise be implied by statute, common law or the law of equity.
Any liability for any direct, indirect or consequential loss or damage incurred by any user in connection with our site or in connection with the use, inability to use, or results of the use of our site, any websites linked to it and any materials posted on it, including, without limitation any liability for:
loss of income or revenue;
loss of business;
loss of profits or contracts;
loss of anticipated savings;
loss of data;
loss of goodwill;
wasted management or office time; and for any other loss or damage of any kind, however arising and whether caused by tort (including negligence), breach of contract or otherwise, even if foreseeable, provided that this condition shall not prevent claims for loss of or damage to your tangible property or any other claims for direct financial loss that are not excluded by any of the categories set out above. This does not affect our liability for death or personal injury arising from our negligence, nor our liability for fraudulent misrepresentation or misrepresentation as to a fundamental matter, nor any other liability which cannot be excluded or limited under applicable law.
VIRUSES, HACKING AND OTHER OFFENCES
You must not misuse our site by knowingly introducing viruses, trojans, worms, logic bombs or other material which is malicious or technologically harmful. You must not attempt to gain unauthorised access to our site, the server on which our site is stored or any server, computer or database connected to our site. You must not attack our site via a denial-of-service attack or a distributed denial-of service attack. By breaching this provision, you would commit a criminal offence under the Computer Misuse Act 1990. We will report any such breach to the relevant law enforcement authorities and we will co-operate with those authorities by disclosing your identity to them. In the event of such a breach, your right to use our site will cease immediately. We will not be liable for any loss or damage caused by a distributed denial-of-service attack, viruses or other technologically harmful material that may infect your computer equipment, computer programs, data or other proprietary material due to your use of our site or to your downloading of any material posted on it, or on any website linked to it.
LINKS FROM OUR SITE
Where our site contains links to other sites and resources provided by third parties, these links are provided for your information only. We have no control over the contents of those sites or resources, and accept no responsibility for them or for any loss or damage that may arise from your use of them. When accessing a site via our website we advise you check their terms of use and privacy policies to ensure compliance and determine how they may use your information.
JURISDICTION AND APPLICABLE LAW
The English courts will have non-exclusive jurisdiction over any claim arising from, or related to, a visit to our site.
INFORMATION ABOUT US:
www.rooftoppost.co.uk is a site operated by Rooftop Post. We are a small, family business based in the north of England. Our business address is 2 St Mary's Square, Honley, West Yorkshire HD9 6BA. If you need to get in touch with us, please visit our contact page.