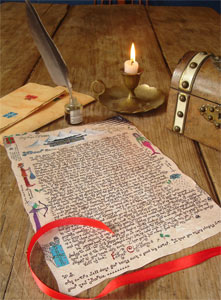 If, in the past, you have bought personalised Santa letters from us, you may be sad to know that we have had to close our online letter shop.

We shut down the store on this site in April 2018 and we have deleted all customer records in order to protect your privacy.
We don't intend to reopen our personalised letter shop at any time in the future but we do hope to carry on improving all our free notes, letters and other printable resources.
Why Have You Closed?
Rising costs, too much competition to be clearly visible on search engines, difficulties adjusting our online store to fit the new General Data Protection Regulations (GDPR) and a fall in the number of customers buying physical products have all contributed to this decision.  We stayed open for as long as we could and we were sorry to have to go.
What About the Free Stuff?
That's not going anywhere.  We will continue to upload whatever we can in the way of free printables, and although we know that to many of you it's not the same, we have worked hard to make them as magical as possible.  For those without a printer, there are always image files and PDFs available for each of our free letters, which can be downloaded and read on PCs, Kindles or other e-readers without children seeing the rest of our site.
The printable letters are very similar to those you used to be able to buy from us, though obviously, they will not be personalised.  They have been created by the same writer/illustrator we always use for the letters, L A Betts. She has also prepared some "backs" for the letters, so that you can print on both sides and create that authentic look you are used to.  Tags are also be available to print for those who want them.  All you'll have to do is find some pretty ribbon to tie around it.
If you're making Father Christmas letters from our free printables and want some extra help, we've uploaded a useful video to YouTube.

Finally, although we know some of you will be saddened by the news of our shop closing, we hope you will find our printables a useful alternative and most of all, that you and your loved ones have a magical Christmas this year.
Best wishes,
The Rooftop Post Team

---
Save
Save