Please follow and share us:
As our site is getting quite big these days, we thought we'd kick off October by posting a list of our most popular Halloween printables.  (They're all free.)  Hope you have fun browsing through them, and that you find something useful for you and your family to enjoy.
1. Decorate With a Witchy Wall Spell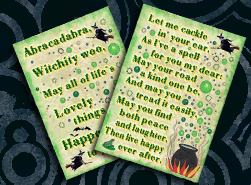 These friendly rhymes with a witchy theme are great fun to decorate your home with on Halloween. They all say lovely things and are a novel way to entertain any Halloween visitors you might have, especially children. Just print, cut out and hang them wherever you feel like it – on doors, fridges, walls etc – and make your guests smile. They also make great little give-aways for Halloween party bags.
2. Craft Some Halloween Party Bags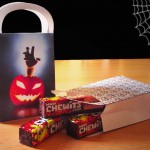 Whether you're having a Halloween party or just filling up little bags of sweets for trick and treaters, these spooky bags are lots of fun.  There are all sorts of themes, black cat, candy corn, witch on a broomstick, pumpkin patch and lots more.
3. Make Use of Our Monster Chore Chart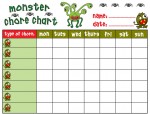 Don't forget to check off those Halloween chores! Perhaps this monster chore chart will encourage the children to give you a hand. We have a number of other colourful chore charts too, including a Witchy Chore Chart, which is popular with girls.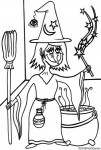 This has long been one of our most popular Halloween colouring pages. We hope your children enjoy it.
5. Hang Up Some Halloween Bunting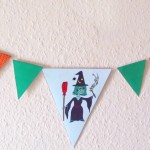 Halloween bunting is a nice, easy way to decorate for Halloween, just print it out, fold, then glue or staple over string. It's a good one for the kids to do with you – we find that ours like this scardy cat bunting best!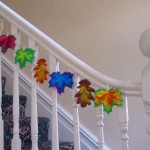 Our paper leaves are ever so popular, at Halloween, Thanksgiving, Harvest festival or any other autumnal occasion. To get the best out of making ours, you can check out this "how to" video. It was made a bit quickly as we were short on time that day, but it gives you the general idea.
Paper leaves are a fabulous way to bring the outside inside on Halloween.
7. Make Use of Some Spidery Scrapbook Paper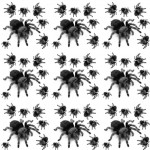 We love this stuff – it makes our skin crawl every time! You can use it for anything you like. We use it for wrapping up small presents and (perhaps oddly!) to cover tissue boxes when we're trying to Halloweenify the house. After all, it's the little details which make for a great party.
TIP: To get the biggest (highest resolution) image of this craft paper, make sure you click on the picture itself, rather than using the PDF button.
Don't forget, we have lots of other scrapbook paper too.
8. Print a "Monster Moving Out" Letter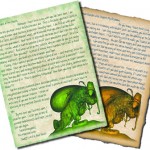 These letters were created as a lighthearted antidote for any children who think there are monsters living in their house, but even if your kids are too old to worry about such things, we've found that many still enjoy them.  They're written by the same author as our Santa letters and are an amusing read for all the family.
9. Take Care of Teeth with a Halloween Tooth Fairy Certificate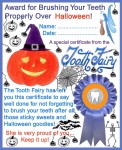 This one's a great way to encourage tooth brushing over Halloween. It's a nice little reward for any child who has made an effort to look after his/her teeth.
TIP: Use the green Editable PDF button underneath the certificate to download a PDF you can type your child's name straight onto.
10. Read a Halloween Note from Santa Claus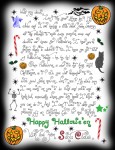 Okay, so you weren't expecting a Father Christmas resource in this list, but think again.  Halloween is a great time to remind the children he's watching between now and Christmas – and with any luck you'll get a special effort from them on the good behaviour front.