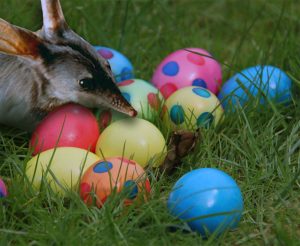 It's nearly that chocolate-munching time of year again and if you're in Australia, you might prefer the Easter Bilby to deliver your treats this year.  He's an endangered alternative to the Easter Bunny, but just as magical.  Our favourite printable bilby resources for this Easter are below:
If you're after more Easter Bilby resources, here are a few we like out there on the web – and they were all free when we looked:
Easter Bilby Printable Bambino Pack – This is a downloadable pack of printables for children including colouring in pages.
Bilby Colouring Pages – Several colouring in sheets of Bilbies, all free to print out for your child.
Bilby Printable Maze – Just one printable game-sheet in the form of a maze.  Your child has to find which way leads to the Easter Bilby's lost eggs.
Printable Bilby Mask – This will take you straight to a PDF of a mask you can print and cut out from mothernatured.com