Fabulous flamingos are everywhere these days and are increasingly popular with children as well as grown-ups.  With this in mind, we've created a rhyming flamingo treasure hunt, fun for all flamingo-loving kids.  It can be used for parties or just as a run-around-the-house game on an ordinary afternoon.
What You Need:
A printer for the clues of course, and some scissors to cut them out.  This is an indoor game and we have tried to make sure that the clues only include objects (such as a book or a chair) that exist in any house.  You'll also need some "treasure" to leave with the last clue.
Flamingo Treasure Hunt Clues: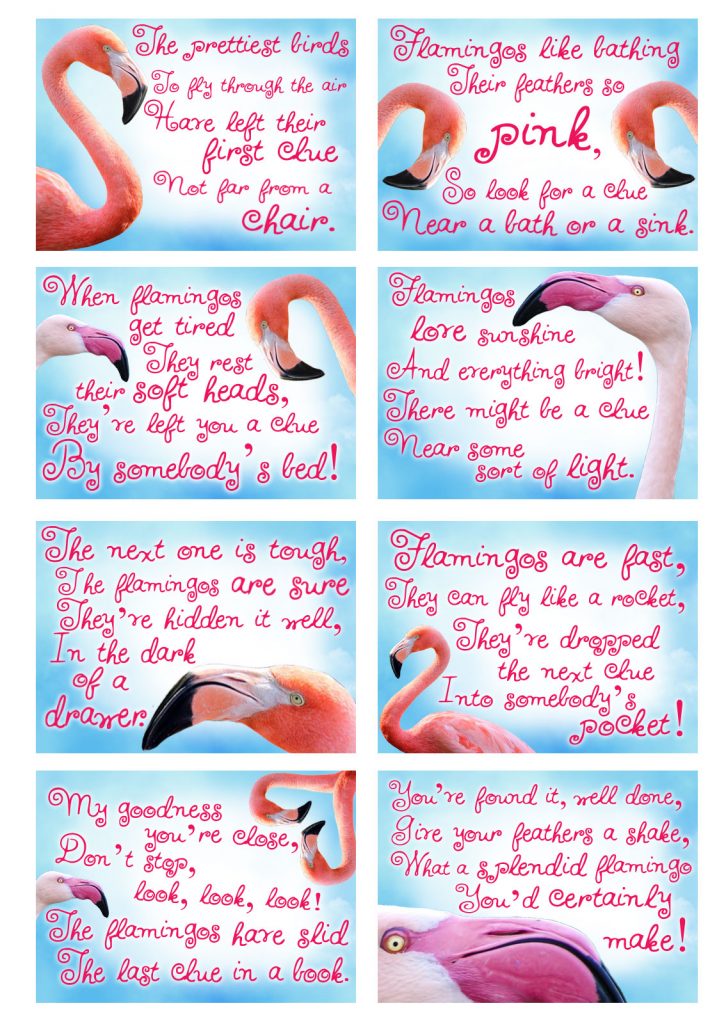 A Couple of Tips:
Along with your treasure or prize, you could add a fabulous flamingo certificate for the winner.  Obviously, you won't know who that is until the game takes place, so just make sure you have a pen handy to add the winning child's name.
If you'd rather not print any images, the text of our clues is below.  Just highlight, copy and print.
The prettiest birds
To fly through the air
Have left their first clue
Not far from a chair.
Flamingos like bathing
Their feathers so pink,
So look for a clue
Near a bath or a sink.
When flamingos get tired
They rest their soft heads,
They've left you a clue
By somebody's bed!
Flamingos love sunshine
And everything bright!
There might be a clue
Near some sort of light.
The next one is tough,
The flamingos are sure
They've hidden it well,
In the dark of a drawer.
Flamingos are fast,
They can fly like a rocket,
They've dropped the next clue
Into somebody's pocket!
My goodness you're close,
Don't stop, look, look, look!
The flamingos have slid
The last clue in a book.
You've found it, well done,
Give your feathers a shake,
What a splendid flamingo
You'd certainly make!
More Flamingo Printables
If you're going the whole hog and throwing a flamingo party, you might find the following resources useful.  They're all free to print out for personal use.  We hope you and the children have lots of fantastic flamingo fun.
Flamingo Scrapbook Paper
Finally, we've got a couple of pieces of flamingo themed scrapbooking paper below, which might come in useful if you're making further flamingo resources of your own.  For example, they  could be helpful if you're making party place mats.  You could also use them as special  wrapping paper if you've got a flamingo fan in the family.
If you're looking for more treasure hunts, you might like to check out the ones we've created for mermaids and pirates.