Click here or on the picture below to print your Easter Bunny letter – it's completely free but we'd be really grateful if you'd share a link/like us on Facebook or Twitter – visitors are what keep this site going. Thank you.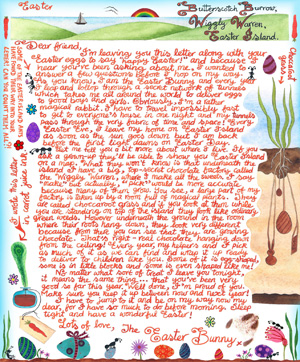 This letter is to read on Easter Morning. It has been handwritten, illustrated in watercolour, then scanned. Its gentle story-telling style is suitable for any child.

What's it about?
The Easter Bunny is on his way around the world again, dropping off Easter treats.  He writes this letter while resting his paws at your house – keen to let your child know a little bit more about his magical world.  This time, he tells of his secret chocolate factory underneath Easter Island, which includes some very strange and magical plants.  As usual, the letter is written in his favourite carrot juice ink and before signing off, he wishes your child a happy Easter and says well done for being good so far this year.
Who's it for?
This is a useful letter for most children, including those who have not had a letter before.  That said, it isn't aimed at babies or children who are to young to have learnt to talk.  Ideally, it would suit a child who has been asking questions about the Easter Bunny's magical world.  Whether your Easter Bunny leaves chocolate eggs, bars or bunnies, this letter is a good fit.
Don't forget, you can get that extra authentic look by printing a decorative paw print design on the reverse of your Easter Bunny letter.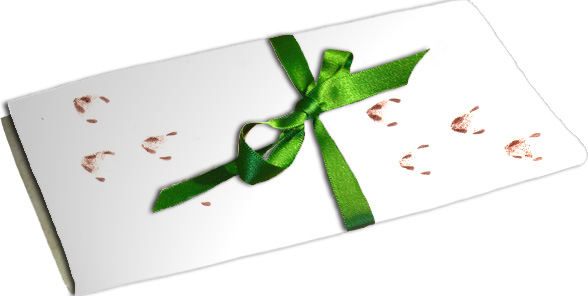 Who helped write it?
Obviously, the Easter Bunny writes her own letters, but she's a very busy rabbit and is helped along the way by a writer and illustrator called Leone Annabella Betts. Her letters all tell magical stories and have been enjoyed by thousands of children for over ten years.
Terms of Use: Copyright of this Easter Bunny letter remains with L A Betts, who has given permission for it to be downloaded and/or printed for personal use. It may not be used commercially. For more information you can read Rooftop Post's Terms of Use.
You might also enjoy these: