Please follow and share us: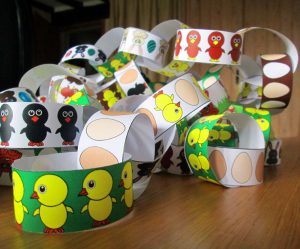 It may be early but with the shops already stocking up for Easter, we thought we'd post a quick collection of resources which you might find useful in the run up to that happy spring Sunday.  Oh – and in case you're reading this and thinking to yourself, "When is Easter this year?  I must check! we've already googled it for you and it's Sunday, April 16th.
To get back to the point, all the printables below are meant to help children get some fun out of preparing for Easter early, whether it's through a reminder to be good between now and then from the Easter Bunny, or simply making a mountain of Easter paper chains!  We hope you find them useful.
If you're wondering what they look like made up, here's a couple more photos of our Easter paper chains: