Please follow and share us: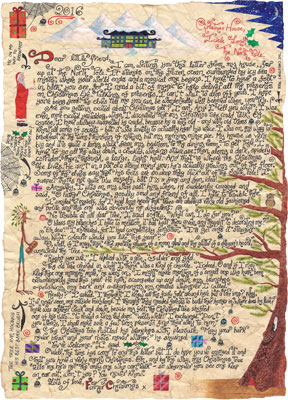 Ah, September!  The summer holidays roll to a close and with the start of the new term comes our latest new Father Christmas letter – completely free for you to print out.
This one is called "Father Christmas and the Christmas Tree" and it can be read any time before Christmas.  Thanks to writer/illustrator Leone Annabella Betts, it's packed with the beautiful illustrations we've come to expect and nicely written in Father Christmas' gentle, jovial storytelling style.
If you're looking for ways to get your child excited about Christmas early, not to mention a little reminder about how important it is to be good, then this letter is well worth a look.  We've been told by many parents that they like to read our Santa letters as bedtime stories and we think this one is a particularly nice choice for that, as thoughts of friendly talking Christmas trees are nice to drift off to.  It's a letter suitable for boys and girls and we hope they enjoy it.
For further Father Christmas story-letters, don't forget to keep an eye on our "New" page, we've a couple more on the way.