Please follow and share us: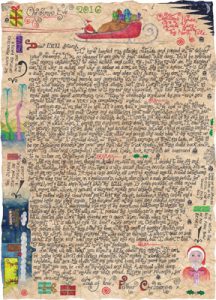 Our latest letter from Santa to read on Christmas Morning is now available for you to print. 
It's completely free – all we ask is that you share it via Facebook, Twitter or LinkedIn before you download it.
This particular letter is called "Dropping Off Your Presents" and it's a good all-rounder; that's to say you can give it to pretty much any child.  In it, Father Christmas charts his journey from the North Pole to your house and tells of the magical happenings along the way.  It's a gentle, amusing letter and we hope you'll find it useful. 
If you are looking for a letter that congratulates a child on being well-behaved all year, this is also an excellent choice.