Please follow and share us: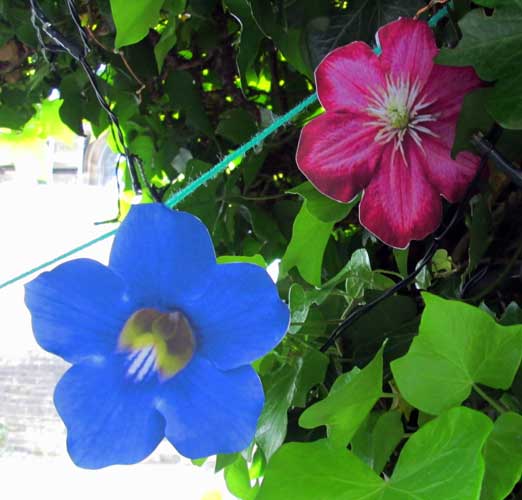 It's summer in the Northern Hemisphere,  officially from 21st June to 22nd of September 2017, and for many families, this means celebrations of all kinds.  Perhaps you have a summer birthday in your clan?  Or you can't wait to treat the kids to a barbecue?  Maybe you're a fan of Midsummer Night's Eve?  Or you just can't think of anything lovelier than drinks, nibbles or whole feasts in the garden?
Whatever the case, we've created a couple of quick decorations for you to craft.  There are links to flower, burger, and fruit garlands below, all ready to print out.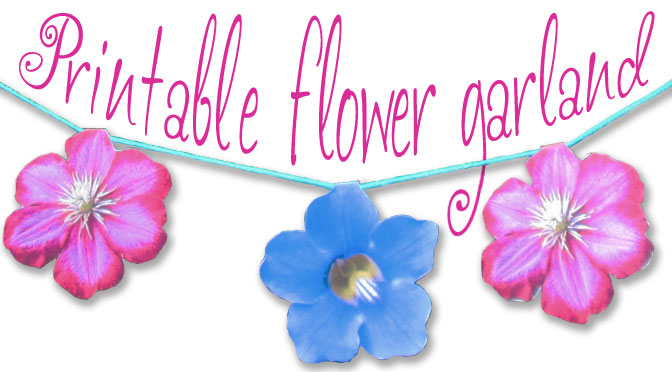 This printable blue and pink flower garland is a great way to decorate your house, garden or balcony for summer parties, barbecues or just because you want to add a bit of summer colour to your life. Here's what you need: a printer, a pair of scissors, some wool/string and (optionally) some glue.

We know it's pretty obvious how and make this garland, but we've added some steps below to make it even easier.  We hope you (and your children) have a great time decorating for your summer party!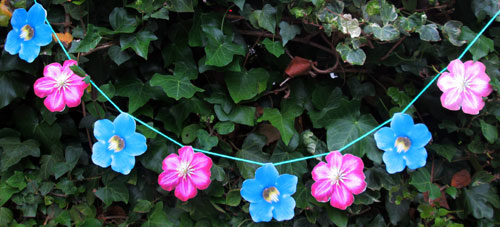 How to Make Your Flower Garland:
STEP 1
Print as many flowers as you want to include in your garland by clicking on the pictures below. (Each one will take you to a pdf file of that flower.)
STEP 2

Carefully cut out your flowers.  Now fold them in half but here's a tip: You might find it easier to fold them over the string/wool before you glue the two halves together, so that you don't have to thread it through.
STEP 3
Stick the two halves together but only glue about half or two thirds of the blank side, leaving a nice wide unglued bit at the top for your string/wool to go through.  This makes it much easier to rethread if you want to rearrange anything – you won't have to fiddle about trying to force your string through a very small space!  Finally, you might like to know that when we made ours, we found wool much better than string – it just seemed better at holding each flower in place.
STEP 4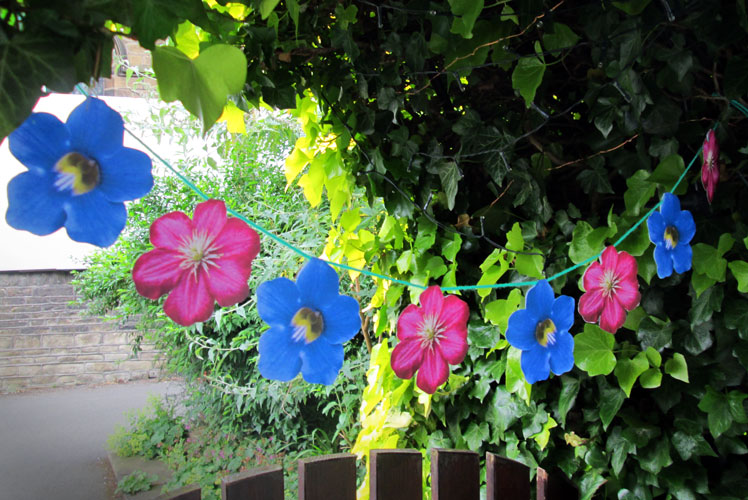 Hang your beautiful string of flowers somewhere in your garden or home and give yourself  big pat on the back for such brilliant crafting!  As you can see, we hung ours in our garden, just above our gate.  A final tip: once the glue was dry we trimmed each flower to make sure there were no bits of white paper showing around the edges.
If flowers aren't right for you, or if you're looking for something that might be more popular with boys, you could…
Make a Burger Garland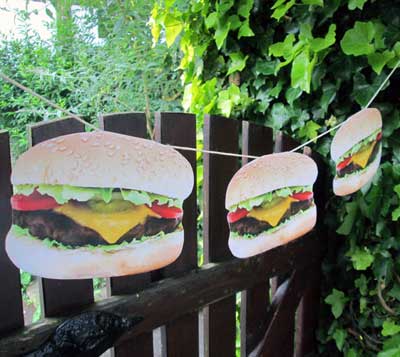 These are great for barbecues, just use the picture below to print cut out, fold over string and stick.  (You make these exactly the same way as the flower garland, so if you're stuck, just use the crafting  steps above.)
You could also jazz up any summer party with this delicious-looking decorations…

To make your own fabulous fruit bunting, visit this page.  Good luck and have a wonderful summer! xx